"IN THE NEWS"
Skate with Santa Celebration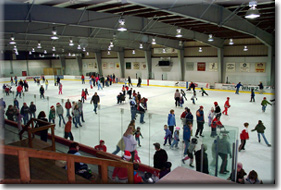 Over 300 skaters showed up on Christmas Eve for Guide Boat Realty's annual "Skate with Santa" celebration at the Saranac Lake Civic Center.
Guide Boat Realty wins Patty League Championship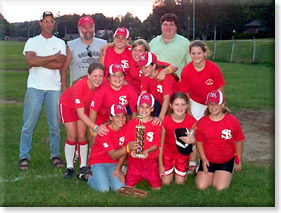 It seemed only fitting that the Patty League Softball playoff final came down to the regular season co-champions, Guide Boat Realty and Pizza Hut. Guide Boat got off to a fast start scoring 4 runs in the bottom of the first inning. Ann E. Cantwell and Alex Covert scored on a single by Gabby Lewis, and Katie Madden and Molly Burgess scored on a single by pitcher Kelsey Blanchard.
Blanchard struck out 8 batters in the first three innings but also walked in a run in the second inning. Blanchard delivered a two out single in the bottom of the third to drive in Lewis giving Guide Boat a 5-1 lead after 3 innings. But Pizza Hut would not give up and scored 4 runs in the top of the fourth to knot the game at 5-5. The game remained tense as both teams left runners on base in the 5th and 6th innings.
The sun was starting to set as the teams moved into extra innings. Guide Boat got a lift defensively in the top of the 7th as Cantwell cleanly fielded two hard hit balls to first. Pizza Hut shut down Guide Boat's 2,3 an 4 hitters in the bottom of the 7th.
Blanchard then struck out the side in the top of the eighth. Katie Madden lead off the bottom of the eighth with her fourth straight single of the night. Molly Burgess followed with a solid single up the middle moving Madden to second. Madden dashed home from second when Blanchard hit the game winner up the middle. Blanchard had a very strong game, going the distance on the mound and striking out a season high 22 batters, while at the plate, she was 4 for 4 with 3 RBIs including the game winner.
Adirondack Living Show: August 19 - 21 in Lake George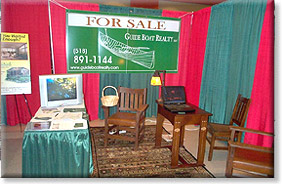 Guide Boat Realty will have a booth at the Adirondack Living Show at the Lake George Forum. This will be the fourth Adirondack Living Show for Guide Boat Realty. Guide Boat Realty's Broker and Owner Chris Covert, "The Adirondack Living Show is a unique opportunity to present our listings to an affluent clientele that has great interest in the Adirondacks and the Great Camp lifestyle." For more information visit www.adirondackliving.com.
Pictured above is Guide Boat Realty's Booth at the Spring Adirondack Living Show in the Pepsi Arena, Albany, NY
Guide Boat Realty Finds Cure for Flamingo Infestation!
8/30/04 - Ever since Guide Boat Realty was infested by Flamingos, (see story below) Broker/Owner Chris Covert has been looking for a way to get rid of the pesky, pink birds. Mr. Covert is pleased to announce that at the recent Pendragon Theatre Summer Gala he was able to procure a cutting from the infamous Audrey II. "I was pleased to find that my Audrey II has developed a voracious appetite for Flamingos." said Mr. Covert, "and I would like too make this cure available to others who may have had a similar Flamingo infestation." It seems the Audrey II is able to clear up most infestations within one week. Mr. Covert is now offering Audrey II's services to others for the fee of $100/week. Checks may be made to Pendragon Theatre. Advance reservations are recommended. To make your reservation contact Guide Boat Realty at 518-891-1144 or stop by their office at 191 River Street in Saranac Lake, NY where Audrey II is on display.
Guide Boat Realty, LLC sponsors "Skate with Santa" at the Saranac Lake Civic Center

Guide Boat Realty "Flamingoed"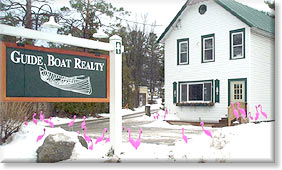 In a cold, cunning and calculated attack, the mercenaries at the Saranac Lake High School Art Club, "Flamingoed" the offices of Guide Boat Realty during the night of Friday, December 13th. The Art Club is holding out on divulging who put out the contract on Guide Boat Realty until Guide Boat Realty makes a donation to the Art Club for their trip to Hollywood, CA. The only comment from Guide Boat Realty's owner Chris Covert was, "He who laughs last, laughs best."
If you would like to "Flamingo" someone or protect yourself by purchasing "Flamingo Insurance" please call Molly Erman at 891-5946 or Matt Scollin at 891-5809. Both are certified Flamingo Consultants.
Guide Boat Realty wins Precious Mettle Award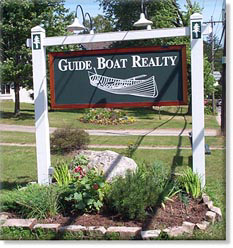 Precious Mettle Awards is a formal acknowledgement by Saranac Lake Area Chamber of Commerce, of members' who recognize the importance of putting your best foot forward. There are many factors to make an area appealing and a main ingredient is aesthetics. The businesses and individuals being commended are companies and people in the past year that have made a conscious effort to improve not only their image, but the image of our community as a whole. Aesthetically pleasing signage is always important to a community and the Chamber of Commerce recognizes Guide Boat Realty for their artful sign and accompanying garden. Not only does it serve as a display for the business, but it is a warm welcome to Saranac Lake as well.
The Saranac Lake Precious Mettle Award derives its name from the sense that businesses add value to the community. The improvements made by these companies actually make Saranac Lake a better place to live in and visit. Just like the gold rush out west, the quality of life that is enhanced by local businesses continues to draw people to Saranac Lake to live.
The Precious Mettle Awards were handed out at the Chamber's Annual Dinner that took place at the Hotel Saranac on May 30, 2002. The recent awards are just part of the work the businesses community has made and the Chamber will be recognizing more businesses and organizations in years to come.
The Saranac Lake Area Chamber of Commerce looks forward to promoting and honoring other improvements in the coming year from area businesses. For more information contact the Chamber at 891-1990.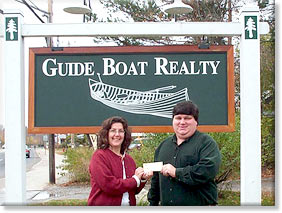 Guide Boat Realty presents...
Chris Covert, Broker/Owner of Guide Boat Realty presents Debbie Lennon of the Petrova Playground Fund a check for $1,000. Guide Boat Realty hopes its contribution will encourage other local businesses to contribute to this worthy cause. The Petrova Playground Fund is raising $80,000 for new playground equipment at Petrova School. For more information on how you can contribute, call Robin Schneider at 891-4850
Licensed in New York State · An Equal Housing Opportunity
Guide Boat Realty, LLC
191 River Street, Saranac Lake, NY 12983
Bus: 518-891-1144 · Fax: 518-891-1291
Email:
info@guideboatrealty.com
· Web Site: www.guideboatrealty.com
You are the
visitor. Thank you for stopping by.